Bridgedale has been a huge positive for him
By: Tracy Williams, Bridgedale Mom
Gunnar skipped 5th grade and entered 6th at Bridgedale.
When we were first considering Bridgedale for our son Gunnar, we were a bit hesitant. We were excited about the hockey training, and at the time Gunnar played for the Mission. So it made sense to go to Seven Bridges every day for school and have all of his hockey practices in the same building.
But we were concerned about the academics. Gunnar has a late birthday and Bridgedale did not have a 5th grade class at the time. And that meant that Gunnar had to skip 5th and go directly into Bridgedale's 6th grade.
Gunnar excelled academically.
We thought he would be behind or struggle, but with the help of the teachers and staff, including the after-school study hall, Gunnar didn't miss a beat. Mrs. Di Pauli in particular was so wonderful for Gunnar and had such a huge impact on him. And so he ended up doing extremely well in all of his classes. Bridgedale guided him to the level that he needed to be academically.
We were also concerned about how Gunnar would handle things socially.
We were worried a bit about the maturity level of Gunnar at the time. It was so nice to have peace of mind knowing that he was in a place where he was taken care of not only by the staff, but by the amazing boys that attended Bridgedale. The older boys treated Gunnar like a little brother, teaching him to be a good citizen, teammate and friend. The other boys were an inspiration to Gunnar and definitely positive role models.
I cannot say enough about the staff at Bridgedale. Each and every teacher treated Gunnar as if he was one of their own sons!! They helped him academically, as a hockey player and more importantly taught him how to be a young man.
To this day he mentions Mrs. Statsney and just a few months ago we were watching her son on TV playing for Notre Dame!! So many great memories!!!!
Gunnar tendered recently by NAHL Janesville Jets.
As a hockey player, Gunnar definitely improved his skills and learned that he had to work hard to be a good hockey player. Having awesome on-ice coaches that pushed him to be better every day was amazing. The competition was good for Gunnar - it made him work harder playing on a daily basis against better players than he was at the time.
We're so proud that Gunnar recently realized a dream when he signed his tender to play with the Janesville Jets of the North American Hockey League.
Gunnar will always remember his Bridgedale experience and have fond memories of the things he learned there and the people that he met - staff and students.
Tracy Williams appears by permission. She has been a teacher for 29 years, the last 26 years at Dundee-Crown High School District 300, where she teaches driver education..
Her son Gunnar is a graduate of Bridgedale Academy and played this 2019-20 season for the Team Illinois Midget Minor U16 team.
Bridgedale Academy is honored to have Tracy Williams contribute her family's story on our blog page.
At Bridgedale we are committed to the development of our young student-athletes, helping them to develop their physical and mental skills so they can perform at their best when it matters most, no matter the arena of life that challenges them. If you would like to learn more about Bridgedale Academy, please click the button below so we can schedule a time to chat.
Mike McPartlin, Headmaster, Bridgedale Academy
And what do Bridgedale teachers say about Bridgedale?
"This is such a special place!! It is life changing for these boys as it centers around strong relationships that encourage strong academic growth. It's a hockey school, but so much more than that.
"It's a pleasure to come to work everyday. Thank you for creating such a positive, caring environment."
Kristi Florey, Bridgedale Math Teacher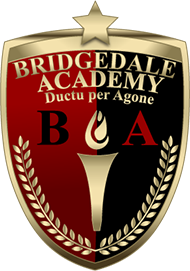 Enrollment for the 2020-21 school year at Bridgedale has already begun.
Bridgedale Academy is an all-boys school for athletes, a prep school for serious youth golfers and hockey players, offering grades 5 through 8 each school year. In addition to our winning combination of sports and academics, we focus on leadership training. We use a classical academic curriculum and our graduates go on to attend some of the most prestigious high schools in the country, including Lake Forest Academy, Culver Military Academy, Shattuck St. Mary's, Northwood School, Benet Academy, Fenwick Prep, St. Ignatius Prep, Marmion Academy, Latin School and Providence Catholic. We pride ourselves on being the top youth hockey prep school in the nation and look forward to the same success in golf as we begin admitting golf athletes during the 2019-20 school year. Our hockey successes are many: Eighteen (18) of our former or current students have already received their NCAA Division 1 college hockey commitments, with many more sure to follow soon. Seven (7) of our grads have competed for USA Hockey's National Team Development Program. Two (2) now compete for the University of Notre Dame. One just signed his entry-level contract with the NHL New York Islanders. Several other Bridgedale grads are now playing junior hockey, including in the USHL, the OHL and the NAHL.