Bridgedale has been transformative for him
By: Olga Khamichonak, Bridgedale Mom
Alex needed a more challenging academic environment.
I was looking for an alternative to my son Alex's public school. Even though it was rated as a Blue Ribbon school and I loved his teachers, its policies and overall approach to the educational process reminded me too much of the Soviet system I'd grown up in.
As an immigrant from Eastern Europe, I very highly value achievement and this is something I would like to instill in my son. As a child who tested as gifted at an early age, he was not being challenged enough by his public school. Everything was too easy, and even though he was always a good student, I knew that for maximum growth, he needed to be challenged much more.
We were looking to combine academics and hockey.
Additionally, he was in love with hockey. It was the first thing he would wake up with and the last thing he talked about when going to bed. He constantly begged me to take him to practices, and I soon realized, I needed to find a hockey school for him.
Bridgedale Academy perfectly solved both my problems.
My classroom observations convinced me Bridgedale would be great for Alex.
At the invitation of Headmaster Michael McPartlin, I did some on-site classroom observation at Bridgedale, and I was able to see first-hand the high expectations that the teachers and coaches had for all the boys.
Across the board, from the leadership of Mr. McPartlin and Academic Dean Mrs. Di Pauli down, every teacher, every person at Bridgedale expected the students to excel not just as athletes, but also as students and as leaders. Students' achievements were recognized and celebrated.
I loved everything about Bridgedale and so we had Alex do a shadow day. And he absolutely loved it, as I knew he would.
I immediately made my decision to enroll Alex at Bridgedale.
The most important moment that showed me I'd made the right decision was after my son's first week at Bridgedale. He came home on Friday, gave me a big smile and a hug; he was beaming with happiness. He told me, "Mom, thank you SO MUCH for giving me an opportunity to go to Bridgedale. For the first time in my life, I love my school."
It brought tears to my eyes.
Because of Bridgedale, Alex had the opportunity to become a stronger athlete every day. After only one year there, Alex was able to make a top AAA hockey team.
As for Academics, I am a teacher by trade, and so I can definitely be critical of educational programs. But I am so impressed with the academics at Bridgedale.
I love that Bridgedale's academics are challenging, that students learn a lot every day, that they are expected to do their homework and show effort, and, most importantly, that they are expected to develop into strong leaders with great personal and leadership qualities.
Thank you Bridgedale Academy!
Olga Khamichonak appears by permission. A
founder of Blooming Minds Academy, Olga has graduated from Minsk State Pedagogical College and Minsk State Linguistics University with Bachelor's in Teaching and Master's in Linguistics of the English Language. Olga began her career as a teacher of English in Minsk, Belarus. For almost 20 years Olga has been teaching and tutoring children and adults of various ages and levels. In addition, she successfully led training and educational programs with strong focus on Quality Improvement and student knowledge improvement.
Her son Alex is a 6th grader at Bridgedale Academy and played this 2019-20 season for the Chicago Fury Peewee Minor '08 team.
Bridgedale Academy is honored to have Olga Khamichonak contribute her family's story on our blog page.
At Bridgedale we are committed to the development of our young student-athletes, helping them to develop their physical and mental skills so they can perform at their best when it matters most, no matter the arena of life that challenges them. If you would like to learn more about Bridgedale Academy, please click the button below so we can schedule a time to chat.
Mike McPartlin, Headmaster, Bridgedale Academy
And what do Bridgedale teachers say about Bridgedale?
"This is such a special place!! It is life changing for these boys as it centers around strong relationships that encourage strong academic growth. It's a hockey school, but so much more than that.
"It's a pleasure to come to work everyday. Thank you for creating such a positive, caring environment."
Kristi Florey, Bridgedale Math Teacher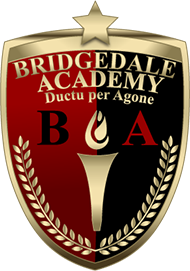 Enrollment for the 2020-21 school year at Bridgedale has already begun.
Bridgedale Academy is an all-boys school for athletes, a prep school for serious youth golfers and hockey players, offering grades 5 through 8 each school year. In addition to our winning combination of sports and academics, we focus on leadership training. We use a classical academic curriculum and our graduates go on to attend some of the most prestigious high schools in the country, including Lake Forest Academy, Culver Military Academy, Shattuck St. Mary's, Northwood School, Benet Academy, Fenwick Prep, St. Ignatius Prep, Marmion Academy, Latin School and Providence Catholic. We pride ourselves on being the top youth hockey prep school in the nation and look forward to the same success in golf as we begin admitting golf athletes during the 2019-20 school year. Our hockey successes are many: Eighteen (18) of our former or current students have already received their NCAA Division 1 college hockey commitments, with many more sure to follow soon. Seven (7) of our grads have competed for USA Hockey's National Team Development Program. Two (2) now compete for the University of Notre Dame. One just signed his entry-level contract with the NHL New York Islanders. Several other Bridgedale grads are now playing junior hockey, including in the USHL, the OHL and the NAHL.