by Mike McPartlin, Headmaster, Bridgedale Academy
Mrs. Kuhl's Speech at Year-End Awards Ceremony!
At the conclusion of each Bridgedale Academy school year, our graduating 8th graders take center stage. In addition to announcing where they will attend high school and presenting their moms with a rose, each boy recites from memory a speech or poem.
Each year the boys do a wonderful job with their recitations, no small feat considering that, in addition to our entire student body and teaching staff being there, parents, grandparents and siblings are also in attendance. This year we had more than 200 attendees.
One reason the boys do so well is Mrs. Janene Kuhl, who has taught the English Language Arts to Bridgedale's 8th graders since our founding in 2013 and who prepares the boys so well for their public speaking engagement.
This year after the boys had once again nailed their recitations, Mrs. Kuhl gave her own speech, using the acronym STEAL to talk about the life lessons that can be learned from the novels and short stories the boys read each year in her class.
Her stirring speech received a thunderous ovation. You can read it here, or by clicking this blog article's title above to continue reading.
(On Thursday, May 19, 2022, Bridgedale Academy hosted its End-of-Year Academic Awards Ceremony for the 2021-2022 School Year. Bridgedale teacher Janene Kuhl delivered the following address to this year's graduating class and those assembled to mark the occasion.)
"Happy Graduation Day!
For those of you who don't know, I am Janene Kuhl and, along with teaching 5th, 6th, and 7th grade science , I have the pleasure of teaching 8th grade English. Over the course of the year, we read quite a few short stories and novels focusing on literary elements including plot, theme, characterization, setting, symbolism, and figurative language.
Many of these elements can be connected to our own lives or to things we encounter out in the real world. It is through literature and the stories they tell that we as readers can learn life lessons and develop guidelines to the way in which we choose to live our lives.
The one literary element I would like to focus on today is characterization. We spoke in class about the ways in which authors choose to reveal their characters to the reader, to the audience. We used an acronym to help us remember and to guide us as we wrote about the characters who were introduced to us. The acronym is steal… S-T-E-A-L, which stands for speech, thoughts, effects on others, actions, and looks. I bring it up today because I feel this is one area that is truly fitting for graduation.
So let's think about it…STEAL…S-T-E-A-L
S is for SPEECH: Authors reveal their characters through the way they speak.
How do the characters talk to others? How do they speak to the ones they care about, who are closest to them? How do they talk to their friends? to their family?
How do they speak to people they do not agree with? How do they respond to their opponent or adversary? Think of Atticus Finch in To Kill a Mockingbird. He never lost his composure in any of the trials and tribulations he faced. He spoke calmly and respectfully at all times. Speech tells a lot about the character of a person.
T is for THOUGHTS: Authors sometimes share with the reader the personal thoughts of the characters, whether they are good in nature or not. The thoughts one has reveal the true nature of the person or character in the story. This can be proven by analyzing Santiago in The Old Man and the Sea. Through his thoughts, while he was alone at sea, the reader is shown his kindness and resilience even in the toughest of times.
After S & T, comes E.
The E stands for "Effects on Others." How do the characters affect others around them? Do they make relationships better or worse? Are they positive or do they always have a negative energy surrounding them? Do they continually build relationships, or do they look for ways to tear them down? Looking back, I believe Tom Sawyer is a good example of this. Tom's effect on others was not always positive: Amy Lawrence, Alfred, the boys in town during the whitewashing scene. However, although Tom was very mischievous, he did have a positive effect on several other characters in the story. His fun adventures with friends and sincere concern for Becky and Huck were evidence that he valued those relationships. The effect Tom had on others revealed many sides of this famous character.
The next letter is A for ACTION. How does the author reveal the characters through their actions. Similar to the effects they have in relationships, their actions speak volumes about who they are. Throughout your life, you will often hear that "actions speak louder than words," and it is true. Think of Shane from the western we read. He was true to his word. His actions were always thought out and he was careful in how he used his skills. He knew what was right and what was wrong, and acted accordingly.
Finally, our last letter is L for Looks. Authors often reveal their characters by the way they dress, by the way they carry themselves, their posture, their individual style, and their confidence. Very clearly S.E Hinton reveals two strikingly different groups of kids in The Outsiders, the Greasers and the Socs. There is constant judgement by others simply by the way a person looks: sometimes good, sometimes bad, but there is always an impression one gives by their appearance, and authors purposely describe their characters in ways to create those impressions.
That's it. STEAL…so why did I choose this topic for graduation?
Because … this message is for you, the graduating class of 2022:
The way you speak, what you think, the effect you have on those around you, the way you act, and how you portray yourself to the world paints a picture. It tells the world who you are.
As you graduate from Bridgedale Academy, I hope you carry with you the character that you want to become. Remember STEAL as you grow.
S - Speak kindly and truthfully
T- Think deeply and carry positive, honorable thoughts
E - Have an amazing effect on others and build strong relationships.
A - Through your actions, make the world a better place. Act purposefully. Set goals, follow through, and keep your word. Remember, actions speak louder than words. Do what is right, even when no one is looking.
L - Look confident and present yourself well. You feel good when you look good. And, if possible, choose to wear a smile. It may brighten someone else's day.
This is your chance and your time to reveal to the world the person you want to be.
We look forward to seeing the young men you become. Congratulations and best wishes to you always."
At Bridgedale we are committed to the development of our young student-athletes, helping them to develop their physical and mental skills so they can perform at their best when it matters most, no matter the arena of life that challenges them. If you would like to learn more about Bridgedale Academy, please click the button below so we can schedule a time to chat.
Mike McPartlin, Headmaster, Bridgedale Academy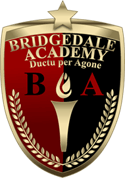 If you would first like to see Bridgedale for yourself, please click the CTA below to set up your own Bridgedale Academy Private Showing.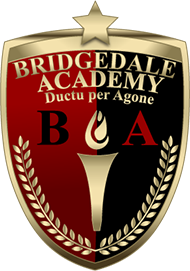 Enrollment for the 2022-23 school year at Bridgedale is already underway.
Bridgedale Academy is an all-boys school for athletes, a prep school for serious youth hockey players offering grades 5 through 8 each school year. In addition to our winning combination of sports and academics, we focus on leadership training. We use a classical academic curriculum and our graduates go on to attend some of the most prestigious high schools in the country, including Lake Forest Academy, Culver Military Academy, Shattuck St. Mary's, Northwood School, Benet Academy, Fenwick Prep, St. Ignatius Prep, Marmion Academy, St. Francis, Latin School and Providence Catholic. We pride ourselves on being the top youth hockey prep school in the nation. More than twenty-seven (27) of our former or current students have already received their NCAA Division 1 college hockey commitments. Seven (7) of our graduates competed for USA Hockey's National Team Development Program. Several have been NHL-drafted and two have already signed their entry-level contract with the NHL. Numerous Bridgedale grads are now playing NCAA D1 and D3 hockey as well as junior hockey, including in the USHL, the OHL and the NAHL.