Bridgedale's Transition to Online Distance Learning
By Mark Borst, Bridgedale Academy Dad
"Has been amazing to watch."
Being able to pivot quickly can be the difference between successful businesses vs struggling businesses. Under normal situations, good forecasting and observation of any market can prepare leaders to be ahead of the curve and pivot early.
…We all know what has happened with this coronavirus is FAR from normal.
My son Brogan has been attending Bridgedale Academy since January of 2019. Operating a school is much like a business and being able to pivot is a necessary quality needed to thrive in our current situation.
The fact that the faculty was able to adapt and pivot to this new reality has been amazing to watch. Almost without missing a single beat, Mike, Christina, and their entire team transitioned into an online school. The boys are in class sessions from 8 to 1:30 every day just like their normal schedule with breaks and lunch intertwined. Once the school day is done, their off-ice sessions begin for a 45-60 min session. All of this has been happening on Zoom and other technologies.

This unfortunate situation has been tackled in the best way possible. This experience will make the school, the teachers, and the boys stronger in the future for any challenge that comes their way…

Bridgedale Strong!
Mark Borst appears by permission. A
n entrepreneur and a relentless innovator of the real estate industry, Mark is a collaborator of the "Value-Driven
Approach to Sell Real Estate," and host of Ask NWI. He is also a co-founder of Impact Club Tri Town, a community helping a
community, and is Broker/Owner of Versatile Real Estate Solutions LLC.
Mark's son Brogan is a 7th grader who excels academically and athletically at Bridgedale Academy. Brogan played during the 2019-20 hockey season with the Chicago Hawks organization and his team won both the NIHL and state championships.
At Bridgedale we are committed to the development of our young student-athletes. In this time of challenge and uncertainty due to COVID-19, we seamlessly moved our academics and off-ice athletic instruction online. We continue to help our student-athletes develop their physical and mental skills so they can perform at their best when it matters most, no matter the arena of life that challenges them.
If you would like to learn more about Bridgedale Academy, please click the button below so we can schedule a time to chat.
Mike McPartlin, Headmaster, Bridgedale Academy
And what do Bridgedale teachers say about Bridgedale?
"This is such a special place!! It is life changing for these boys as it centers around strong relationships that encourage strong academic growth. It's a hockey school, but so much more than that.
"It's a pleasure to come to work everyday. Thank you for creating such a positive, caring environment."
Kristi Florey, Bridgedale Math Teacher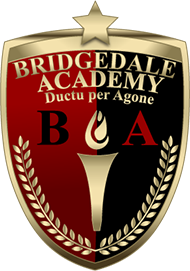 Enrollment for the 2020-21 school year at Bridgedale has already begun.
Bridgedale Academy is an all-boys school for athletes, a prep school for serious youth golfers and hockey players, offering grades 5 through 8 each school year. In addition to our winning combination of sports and academics, we focus on leadership training. We use a classical academic curriculum and our graduates go on to attend some of the most prestigious high schools in the country, including Lake Forest Academy, Culver Military Academy, Shattuck St. Mary's, Northwood School, Benet Academy, Fenwick Prep, St. Ignatius Prep, Marmion Academy, Latin School and Providence Catholic. We pride ourselves on being the top youth hockey prep school in the nation and look forward to the same success in golf as we begin admitting golf athletes during the 2019-20 school year. Our hockey successes are many: Eighteen (18) of our former or current students have already received their NCAA Division 1 college hockey commitments, with many more sure to follow soon. Seven (7) of our grads have competed for USA Hockey's National Team Development Program. Two (2) now compete for the University of Notre Dame. One just signed his entry-level contract with the NHL New York Islanders. Several other Bridgedale grads are now playing junior hockey, including in the USHL, the OHL and the NAHL.