Our decision has been reaffirmed every day.
By: Dave Donoghue, Bridgedale Dad
(We asked Bridgedale dad Dave Donoghue about why he sent his son Charlie to Bridgedale Academy and about Charlie's experiences at Bridgedale. Here are Dave's responses to our questions.)
What motivated you to look at Bridgedale as an academic alternative for Charlie?
We first learned about Bridgedale when I saw a poster about Bridgedale at an ice rink before one of Charlie's hockey games. My wife had been looking for a classical education. The idea of combining a classical education model, an all-boy environment and excellent hockey training was very appealing to us and to Charlie.
What factors went into your decision and was there any particular deciding factor?
We had some doubts coming into it. Would a hockey school be able to or interested in the sort of rigorous education we believe is critical for our children? Would the other families put education first and hockey second? Bridgedale dispelled those doubts. We quickly saw that the Bridgedale teachers and athletic instructors cared about educating and growing young men first from the top down.
Hockey is of course an important part of the education, but just like algebra and grammar, hockey is one more tool that develops thoughtful, intelligent young men who are leaders in the classroom, on the ice and in their communities. And in order to accomplish its mission Bridgedale has built an unparalleled team of teachers. To a person, the teachers have strong command of their subject and an excellent ability to handle middle school boys firmly, but with an impressive kindness and generosity.
How long did it take to make the final decision on enrolling? What if anything gave you hesitation about it?
We had some hesitation about whether a "school for hockey players" would take academics seriously enough for us. That concern was immediately dispelled when we met the Bridgedale teachers. When you talk to them there is no doubt that Bridgedale cares about the learning and development of the boys first and foremost.
Our decision has been reaffirmed every day of Charlie's education.
Was there a "defining moment" after enrolling Charlie when you realized that you had made the right decision?
There are a lot of moments that remind us of how excellent the Bridgedale experience has been for Charlie. One of the first was our first trimester award ceremony. Charlie joined Bridgedale in the middle of a trimester, so he had some catching up to do. He ended the trimester with all As and an A- earning himself High Honors.
When Charlie was called up to recognize his high honors at the trimester awards ceremony, he was deservedly proud of his accomplishment. But then they had the high honors kids sit down. As they were walking to their seats, Mr. McPartlin began honoring the kids who'd received a perfect 4.0 GPA.
Charlie stopped for a second, stunned that there was a higher honor and surprised that he was unaware of it. Since then, he has gotten consecutive 4.0s. That is not to say that Bridgedale is overly focused on metrics. Rather, Bridgedale does an excellent job of giving every kid the motivation they need to excel and better themselves.
Another defining moment came in the fall of eighth grade. Charlie sat for the Catholic high school entrance exam. We had some – wholly unfounded – concerns about how well Charlie's Bridgedale education would stack up against other, more traditional middle schools.
Our concerns were answered resoundingly.
Charlie got one of the top ten test scores of all applicants for Marmion Academy and was awarded a half ride scholarship. There is no question that Bridgedale has prepared Charlie for the challenges that come next in the classroom, on the ice and in life.
Thank you Bridgedale Academy.
How has Bridgedale improved your son's academic and athletic situations?
I have spoken quite a bit about how Bridgedale improved Charlie's academic situation. The key I think is that Bridgedale has helped Charlie make a transition from a solid student to a young man who loves learning.
Bridgedale has taught him that the value of education is not achieving grades, but in understanding the world around us.
That love of learning is not something that every school instills and it will be a significant benefit to Charlie throughout his life. In a similar vein, one of Bridgedale's other big academic benefits for Charlie is that the boys' natural competition on the ice carries over into the classroom. That competition, carefully directed by the teachers, is a wonderful driving force in the Bridgedale education. It makes each boy strive for his best.
Charlie has also grown considerably as a hockey player at Bridgedale. The daily attention to the fundamentals of the game and essentially doubling his ice time have helped him make big strides. The specialized coaching has also been a big help.
Because of Bridgedale Charlie has spent nearly three hours per week with some of the best goalie coaches in the Chicagoland area, not counting what he gets with his team. There are very few goalies in any level of hockey that get that type of instruction.
And because Bridgedale keeps class sizes small, the instruction is very individualized. In addition, Bridgedale has grown Charlie's hockey family significantly. He is regularly playing against classmates, which makes games both more meaningful and more fun.
R. David ("Dave") Donoghue appears by permission. He is
s an established Intellectual Property trial attorney with jury trial success and a strong track record across district courts, the Federal Circuit, and at the Patent Trial and Appeal Board. He serves as the leader of Holland & Knight's national Intellectual Property Group and is based in the firm's Chicago office
.
His son Charlie is an 8th grader at Bridgedale Academy and will be attending Marmion Academy on a scholarship next year. A goaltender, Charlie played this 2019-20 season for the Chicago Jets.
Bridgedale Academy is honored to have Dave Donoghue contribute his family's story on our blog page.
At Bridgedale we are committed to the development of our young student-athletes, helping them to develop their physical and mental skills so they can perform at their best when it matters most, no matter the arena of life that challenges them. If you would like to learn more about Bridgedale Academy, please click the button below so we can schedule a time to chat.
Mike McPartlin, Headmaster, Bridgedale Academy
And what do Bridgedale teachers say about Bridgedale?
"This is such a special place!! It is life changing for these boys as it centers around strong relationships that encourage strong academic growth. It's a hockey school, but so much more than that.
"It's a pleasure to come to work everyday. Thank you for creating such a positive, caring environment."
Kristi Florey, Bridgedale Math Teacher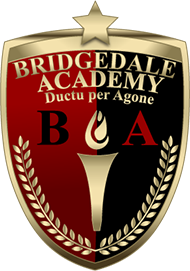 Enrollment for the 2020-21 school year at Bridgedale has already begun.
Bridgedale Academy is an all-boys school for athletes, a prep school for serious youth golfers and hockey players, offering grades 5 through 8 each school year. In addition to our winning combination of sports and academics, we focus on leadership training. We use a classical academic curriculum and our graduates go on to attend some of the most prestigious high schools in the country, including Lake Forest Academy, Culver Military Academy, Shattuck St. Mary's, Northwood School, Benet Academy, Fenwick Prep, St. Ignatius Prep, Marmion Academy, Latin School and Providence Catholic. We pride ourselves on being the top youth hockey prep school in the nation and look forward to the same success in golf as we begin admitting golf athletes during the 2019-20 school year. Our hockey successes are many: Eighteen (18) of our former or current students have already received their NCAA Division 1 college hockey commitments, with many more sure to follow soon. Seven (7) of our grads have competed for USA Hockey's National Team Development Program. Two (2) now compete for the University of Notre Dame. One just signed his entry-level contract with the NHL New York Islanders. Several other Bridgedale grads are now playing junior hockey, including in the USHL, the OHL and the NAHL.