by Mike McPartlin, Headmaster, Bridgedale Academy
A Man of Many Firsts
Last Saturday, Bridgedale Academy grad Josh Lopina and his UMass teammates defeated St. Cloud State to win the NCAA Division 1 National Championship.
It was the first-ever national championship for the Minutemen, capping off an amazing season.
And Josh, as the team's second line center and top face-off man, was a major contributing factor in the team's unprecedented success.
And all this in his first season as a freshman with the team.
But by now Josh is used to being "first."
Consider these U Mass firsts that Josh experienced in his first year there:
1) UMass won its FIRST-EVER National Championship;
2) UMass won its FIRST-EVER Hockey East Playoff Championship; and
3) Josh became the FIRST-EVER UMass player to be named Rookie of the Year in Hockey East.
But Josh Lopina holds another title as a first.
And it's a title we at Bridgedale Academy have been proud of since we opened our doors for our inaugural school year in 2013.
You see, Josh is also the FIRST-EVER Bridgedale Academy student.
During the 2012-13 hockey season, as we were making our preparations to open Bridgedale for its FIRST-EVER school year, Josh was one of the youngsters we had on our primary recruiting list.
And Josh's parents, Pam and Bill, were the first from that list to let us know they were on board to enroll Josh for our first school year.
Anyone who's run a business, or put together a team, or tried to start up a new venture that involved getting people on board, knows how important it is to get that first "commit."
Such people are known as "early adopters" and they are always the key to getting others to jump on board as well.
So congrats to Josh and his U Mass teammates.
And thanks to Pam and Bill Lopina for believing in our dream to make Bridgedale Academy the school where young hockey players could blossom as athletes while getting a top-notch classical education.
Now that's a first.
At Bridgedale we are committed to the development of our young student-athletes, helping them to develop their physical and mental skills so they can perform at their best when it matters most, no matter the arena of life that challenges them. If you would like to learn more about Bridgedale Academy, please click the button below so we can schedule a time to chat.
Mike McPartlin, Headmaster, Bridgedale Academy
And what do Bridgedale teachers say about Bridgedale?
"This is such a special place!! It is life changing for these boys as it centers around strong relationships that encourage strong academic growth. It's a hockey school, but so much more than that.
"It's a pleasure to come to work everyday. Thank you for creating such a positive, caring environment."
Kristi Florey, Bridgedale Math Teacher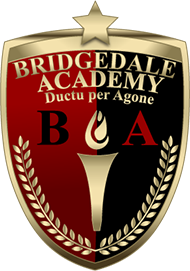 We are now enrolling students for the 2021-22 school year.
Bridgedale Academy is an all-boys school for athletes, a prep school for serious youth hockey players, offering grades 5 through 8 each school year. In addition to our winning combination of sports and academics, we focus on leadership training. We use a classical academic curriculum and our graduates go on to attend some of the most prestigious high schools in the country, including Lake Forest Academy, Culver Military Academy, Shattuck St. Mary's, Northwood School, Benet Academy, Fenwick Prep, St. Ignatius Prep, Marmion Academy, St. Francis Prep, Latin School and Providence Catholic. We pride ourselves on being the top youth hockey prep school in the nation and our hockey successes are many: Twenty-two (22) of our former or current students have already received their NCAA Division 1 college hockey commitments, with many more sure to follow soon. Seven (7) of our grads have competed for USA Hockey's National Team Development Program. Our grads now compete for their respective D1 and D3 teams, including Notre Dame, Wisconsin, U Mass, Colorado College and others. Two of our grads have recently signed their entry-level contract with their respective NHL teams, the New York Islanders and the Anaheim Ducks. Several other Bridgedale grads are now playing junior hockey, including in the USHL, the OHL and the NAHL.