Our Talented, Caring Teachers Crushed it!
By: Mike McPartlin, Headmaster, Bridgedale Academy
Parents ecstatic with Bridgedale's distance learning.
The 2019-20 school year at Bridgedale Academy was truly one for the ages.
When it became clear in early March that the COVID-19 pandemic was about to have a profound impact on how we do things at Bridgedale Academy, we began making our preparations.
We pride ourselves on the "dynamic engagement" of our in-person classroom instruction. And with our boys-only environment, and small class-sizes, we especially take pride in how well ALL our boys do academically, and how virtually all of them come to LOVE LEARNING.
But a mandated school shutdown meant that we would lose that in-person instruction.
So what could we possibly do to maintain that same high level of engagement?
It turns out plenty.
Zoom is an appropriate word for Bridgedale's response to the shutdown.
Once Governor Pritzker announced that all Illinois schools would have to close their in-person instruction, it took our staff all of one day to map out our distance learning strategy.
On Monday, March 16th, under the leadership of Academic Dean Christina Di Pauli, our teachers worked all day, setting up their Zoom accounts, outlining procedures to accept homework and assignments from the students, and laying out the balance of the trimester.
And on Tuesday, March 17th, the very next day, Bridgedale's academics were in full swing. While other schools struggled to make the transition (if they made it at all), Bridgedale didn't miss a beat.
A Grand Slam Home Run - Our results speak for themselves.
We maintained a set schedule and no classes were missed. Our attendance for the balance of the school year was virtually 100% and most classes not only finished the curriculum they'd already had planned for the school year, but even went beyond.
"It was amazing how well the boys did," commented Mrs. Di Pauli. "They looked on it as the challenge it was and they responded with flying colors."
"There's no doubt in my mind," she added, "that the foundation our teachers laid during the first two trimesters paved the way for how well the boys were able to transition."
The boys continued to train as athletes with online off-ice training sessions.
Headmaster Mike McPartlin concurred, noting that "if it weren't for the groundwork having already been laid, it couldn't have gone as well as it did. Huge kudos to our teachers and off-ice instructors for how well-prepared the boys were to handle the transition.
"Importantly, we were able to continue with our awesome off-ice program just as if we were still physically at school and in the workout areas."
End of school year Academic Awards ceremony went well.
Bridgedale's final day of school was Wednesday, May 20th, as originally planned.
As usual, our last day featured our Academic Awards ceremony. Not being able to have it in person his year, however, the entire student body and parents joined in for a Zoom meeting.
(You can watch our Awards Ceremony here.)
The 8th graders made their recitations (a Bridgedale Academy tradition, only this time via a wonderful video put together by Bridgedale dad Rob Zucker).
We recognized the students who had perfect attendance, and then announced the boys who had achieved either Honor Roll (3.3-3.59 GPA), High Honors (3.60-3.99 GPA) and 4.0 GPA Honor Roll.
Bridgedale's "Ductu per Agone" ("Leadership through Athletics") awards came next, first for trimester three, and then for the full school year.
We wound things up with a video featuring the 2019-20 School Year Digital Photo Album (courtesy of Bridgedale mom Laura Donoghue), which included a wonderful tribute to our graduating 8th graders (pictured in photo on right).
As we wrapped things up, all the Bridgedale families turned on their Zoom video and audio and wished each other well.
All in all, it was a fitting tribute to an amazing 2019-20 school year. Truly one for the ages!
At Bridgedale we are committed to the development of our young student-athletes, helping them to develop their physical and mental skills so they can perform at their best when it matters most, no matter the arena of life that challenges them. If you would like to learn more about Bridgedale Academy, please click the button below so we can schedule a time to chat.
Mike McPartlin, Headmaster, Bridgedale Academy
And what do Bridgedale teachers say about Bridgedale?
"This is such a special place!! It is life changing for these boys as it centers around strong relationships that encourage strong academic growth. It's a hockey school, but so much more than that.
"It's a pleasure to come to work everyday. Thank you for creating such a positive, caring environment."
Kristi Florey, Bridgedale Math Teacher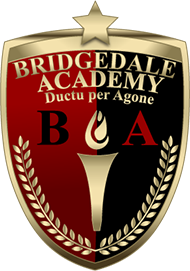 Enrollment for the 2020-21 school year at Bridgedale has already begun.
Bridgedale Academy is an all-boys school for athletes, a prep school for serious youth golfers and hockey players, offering grades 5 through 8 each school year. In addition to our winning combination of sports and academics, we focus on leadership training. We use a classical academic curriculum and our graduates go on to attend some of the most prestigious high schools in the country, including Lake Forest Academy, Culver Military Academy, Shattuck St. Mary's, Northwood School, Benet Academy, Fenwick Prep, St. Ignatius Prep, Marmion Academy, Latin School and Providence Catholic. We pride ourselves on being the top youth hockey prep school in the nation and look forward to the same success in golf as we begin admitting golf athletes during the 2019-20 school year. Our hockey successes are many: Nineteen (19) of our former or current students have already received their NCAA Division 1 college hockey commitments, with many more sure to follow soon. Seven (7) of our grads have competed for USA Hockey's National Team Development Program. Two (2) now compete for the University of Notre Dame. One just signed his entry-level contract with the NHL New York Islanders. Several other Bridgedale grads are now playing junior hockey, including in the USHL, the OHL and the NAHL.