At Bridgedale he's more confident and focused than ever.
By: Samantha Burns, Bridgedale Mom
Aiden had always done well at school.
Our journey at Bridgedale Academy happened quickly, but the course that lead us there started long before. Aiden has always been a joy: his beautiful smile and kind spirit make him so easy to love. He is helpful and smart; a great addition in any school. He asks for very little and gives 100% in return.
For years, our parent teacher conferences remained the same, "Your son is smart, sweet and doing his best."
This was wonderful . . .
Until Aiden hit fourth grade and things changed.
Parent teacher conferences remained the same, but Aiden was unhappy. His lack of interest in school was obvious, he never wanted to do homework, nor did he need too. He was withdrawn and miserable, frustrated with the classroom and the students that refused to follow the rules.
His teacher spent more time attempting to manage the classroom than teaching. State-mandated testing and large classrooms made it difficult to cover curriculum and Aiden was DONE. We struggled as a family, trying everything in our power to manage the stress and disappointment that came with what we knew needed to be done.
He needed a change. WE needed a change. Little did we know, the greater power would take over.
Our Open House visit convinced us Bridgedale would be great for Aiden.
I remember walking Aiden into his hockey lesson one evening. It was a typical night, my husband Ryan and I juggling carpool. As we walked out, a simple "Open House" sign caught Aiden's eye. Aiden asked if we could attend. Ryan and I were hesitant due to the cost. After crunching numbers, we agreed to "look" at the school.
At the Open House, Aiden was super excited to check out this new school; as parents we were completely overwhelmed.
The teachers were genuine and excited about their classroom, curriculum and students. It felt right, like Aiden would fit, but the school is small and could bring on an entire new realm of challenges.
Shadow day came and went, leaving Aiden longing to go to Bridgedale.
This decision was HUGE in so many ways. Our current school schedule was simple, both kids load the bus together, come home together, we know the routine, the staff, the families, simple as could be. Everything would change.
This school would be a major family commitment. Early wake up calls for all of us, including his younger sister and LOTS and LOTS of additional driving, different school schedules, the entire concept seemed crazy.
Ultimately, we knew we would make it work for Aiden.
We wanted this for him, a place for him to belong and excel. The more we dove into the curriculum and continued through our current curriculum; Bridgedale Academy seemed like the better fit. Aiden would go back and forth, questioning his feelings until the last week of school hit. Aiden was ready to tell his teachers and friends he wasn't returning in the fall.
We enrolled him soon after. Summer came and went; school was about to start. The support of family and friends wasn't always there; everyone had something to say. It was painful at times. We were scared but we put on a brave face and continued to think positive.
The first month of school was extremely difficult. The early mornings, homework, expectations, extra ice time, hockey tryouts. It was hard, very HARD. Aiden was always positive, but we worried he would burn out.
Week 5 rolled around and it all connected.
We knew it was a perfect fit for Aiden when he came home from school one day and said "I'm proud to walk down the hallway."
But more importantly, he was now managing his time, schoolwork and hockey schedule better than ever. He was stepping up, working hard and doing so well. He was working on a 4.0 GPA, pushing himself harder than I ever thought possible and loving every minute of each new challenge.
His love for school and hockey has grown exponentially.
After six months at Bridgedale Academy, he is a different child, a better version of his previous self. He is more confident and focused than ever. His love for school and hockey has grown exponentially. His skills now match his love for the sport.
We love watching him grow. Making the decision to send Aiden to Bridgedale Academy was the best decision we've ever made for our son. It's a decision we would make over and over again.
Our only dilemma now is finding a school this perfect for our daughter.
Thank you Bridgedale Academy!
Samantha Burns appears by permission. Samantha is a full-time mother of two, wife, photographer and business owner. Her small business, Teeny Turtle Photography was established in 2011. She specializes in Newborn, Family and Children Portraiture and after nine years her love for the business continues to grow.
Her son Aiden is a 5th grader at Bridgedale Academy and played this 2019-20 season for the Naperville Sabres hockey club.
Bridgedale Academy is honored to have Samantha Burns contribute her family's story on our blog page.
At Bridgedale we are committed to the development of our young student-athletes, helping them to develop their physical and mental skills so they can perform at their best when it matters most, no matter the arena of life that challenges them. If you would like to learn more about Bridgedale Academy, please click the button below so we can schedule a time to chat.
Mike McPartlin, Headmaster, Bridgedale Academy
And what do Bridgedale teachers say about Bridgedale?
"This is such a special place!! It is life changing for these boys as it centers around strong relationships that encourage strong academic growth. It's a hockey school, but so much more than that.
"It's a pleasure to come to work everyday. Thank you for creating such a positive, caring environment."
Kristi Florey, Bridgedale Math Teacher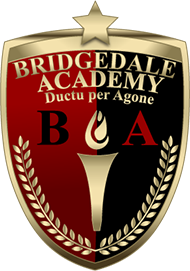 Enrollment for the 2020-21 school year at Bridgedale has already begun.
Bridgedale Academy is an all-boys school for athletes, a prep school for serious youth golfers and hockey players, offering grades 5 through 8 each school year. In addition to our winning combination of sports and academics, we focus on leadership training. We use a classical academic curriculum and our graduates go on to attend some of the most prestigious high schools in the country, including Lake Forest Academy, Culver Military Academy, Shattuck St. Mary's, Northwood School, Benet Academy, Fenwick Prep, St. Ignatius Prep, Marmion Academy, Latin School and Providence Catholic. We pride ourselves on being the top youth hockey prep school in the nation and look forward to the same success in golf as we begin admitting golf athletes during the 2019-20 school year. Our hockey successes are many: Eighteen (18) of our former or current students have already received their NCAA Division 1 college hockey commitments, with many more sure to follow soon. Seven (7) of our grads have competed for USA Hockey's National Team Development Program. Two (2) now compete for the University of Notre Dame. One just signed his entry-level contract with the NHL New York Islanders. Several other Bridgedale grads are now playing junior hockey, including in the USHL, the OHL and the NAHL.