Something's wrong with the US education system.
Consider this fact: today more than 60% of college graduates in the US are female. This disparity is even more unbelievable when you consider that college-age males still slightly outnumber their female counterparts. So just what the heck is going on?
There are many theories. One theory is that males are less inclined to take on the debt associated with attending college today and so either drop out early or choose not to go to college in the first place. In my opinion, this theory is bunk. How many college-age males do you know who think like that?
Another theory is that boys are discouraged from a young age by the peer pressures of "gender-identity" from getting involved in "un-masculine" cultural activities like art, music, drama and foreign languages and as a result do not like school as much as girls. While it is at least arguable that boys today are more likely NOT to worry about being masculine than they were in the past, yet there is some truth in this theory. Recent scientific research does support the notion that because boys at young ages tend to perform poorly compared to girls in subjects like literature and language arts, boys may be discouraged by peer pressure from pursuing "girls" subjects. (Leonard Sax, who is both an MD and a PhD, discusses this in his book Boys Adrift.)
While there is now ample empirical evidence of bias in our education system against boys, most notably at the younger ages, nonetheless there is also some reason why so little organized efforts have been made to correct the problems.
So here's my theory: Education today, more than ever, is controlled by government. Government is controlled by politicians. Politicians are (how should I say this?) "influenced" by politically-motivated interest groups. And many of the politically-motivated interest groups that choose to get involved in "education" are anti-male (or at least anti-traditional male). This has been going on for some time now and the results speak for themselves.
Who can deny that there has for years been a movement afoot to prevent boys from being boys, and not just in school. Think about it. Boys, by their very nature, are rambunctious. Sorry but this is not allowed. Boys by their nature enjoy taking risks. Sorry, no can do. Boys are more aggressive and fight a lot more than girls. Hmmm, we may have to medicate you. It makes you wonder how in the world the males of our species ever managed to survive (much less move on to productive, successful adult lives) before the advent of Ritalin.
Well, sorry to burst any bubbles out there but here's an irrefutable fact: boys are different than girls. Always have been; and (hopefully) always will be. (Here again, check out another Leonard Sax book, Why Gender Matters.)
For many involved in the politicized education bureaucracies, however, this irrefutable fact is troubling; it is the proverbial "inconvenient" truth. And rather than deal with the differences, our "educators" have for years been trying to jam round pegs into square holes.
This ongoing attempt to evade reality, I would argue, is perpetrating a terrible injustice on the males in the US education system.
In fact, I'll go further and give my opinion that some of the most productive, successful men in the history of our country were/are successful precisely BECAUSE they were rambunctious, aggressive, risk-takers when they were boys. And as they matured they learned discipline and how to direct all that "little boy energy" into productive greatness.
And so I say: "boys will be boys," and we should be encouraging them to be.
"At Bridgedale we are committed to the development of our young student-athletes, helping them to develop their physical and mental skills so they can perform at their best when it matters most, no matter the arena of life that challenges them. If you would like to learn more about Bridgedale Academy, please click the button below so we can schedule a time to chat."
Mike McPartlin, Headmaster, Bridgedale Academy
To learn more about Bridgedale Academy, please click the button below so we can schedule a time to chat.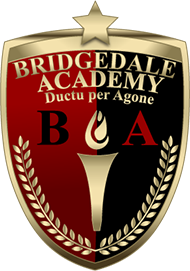 Bridgedale Academy is now accepting transfer students for the 2019-20 school year
Bridgedale Academy is an all-boys school for athletes, a prep school for serious youth golfers and hockey players, offering grades 5 through 8 each school year. In addition to our winning combination of sports and academics, we focus on leadership training. We use a classical academic curriculum and our graduates go on to attend some of the most prestigious high schools in the country, including Lake Forest Academy, Culver Military Academy, Shattuck St. Mary's, Northwood School, Benet Academy, Fenwick Prep, St. Ignatius Prep, Marmion Academy, Latin School and Providence Catholic. We pride ourselves on being the top youth hockey prep school in the nation and look forward to the same success in golf as we begin admitting golf athletes during the 2019-20 school year. Our hockey successes are many: Eighteen (18) of our former or current students have already received their NCAA Division 1 college hockey commitments, with many more sure to follow soon. Three (3) of our graduates competed for USA Hockey's National Team Development Program. Two (2) now compete for the University of Notre Dame. One just signed his entry-level contract with the NHL New York Islanders. Several Bridgedale grads are now playing junior hockey, including in the USHL, the OHL and the NAHL.